About Rolling Stone

Rolling Stone was designed by William Charters Burns Jr. better known as Chuck Burns and was built at the Stone Boatyard in Alameda, C.A., USA as lightweight IOR one tonner racing sloop. Rolling Stone is a cold-moulded custom-made construction of 4 layers of 3/16″ Honduras mahogany with a lenght overall of 36 feet. Yes, she is a wooden boat. Her name has nothing to do with the ever-young rock band, but was probably chosen with regard to the shipyard, where she was built. Rolling Stone was launched in Sept. 1975. In her "hot" years she was owned by John F. Whitsett and primarily skippered by US sailing champion and sailmaker Jimmy DeWitt, who is "also" a world-famous marine artist. In this combination she won many important yacht races in the San Francisco Bay area inluding the prestigious "Sir Thomas J. Lipton Challenge Trophy (1913)" in 1976. In this era Rolling Stone was well-known and – as Frank and me learned – she still has a lot of fans in the United States.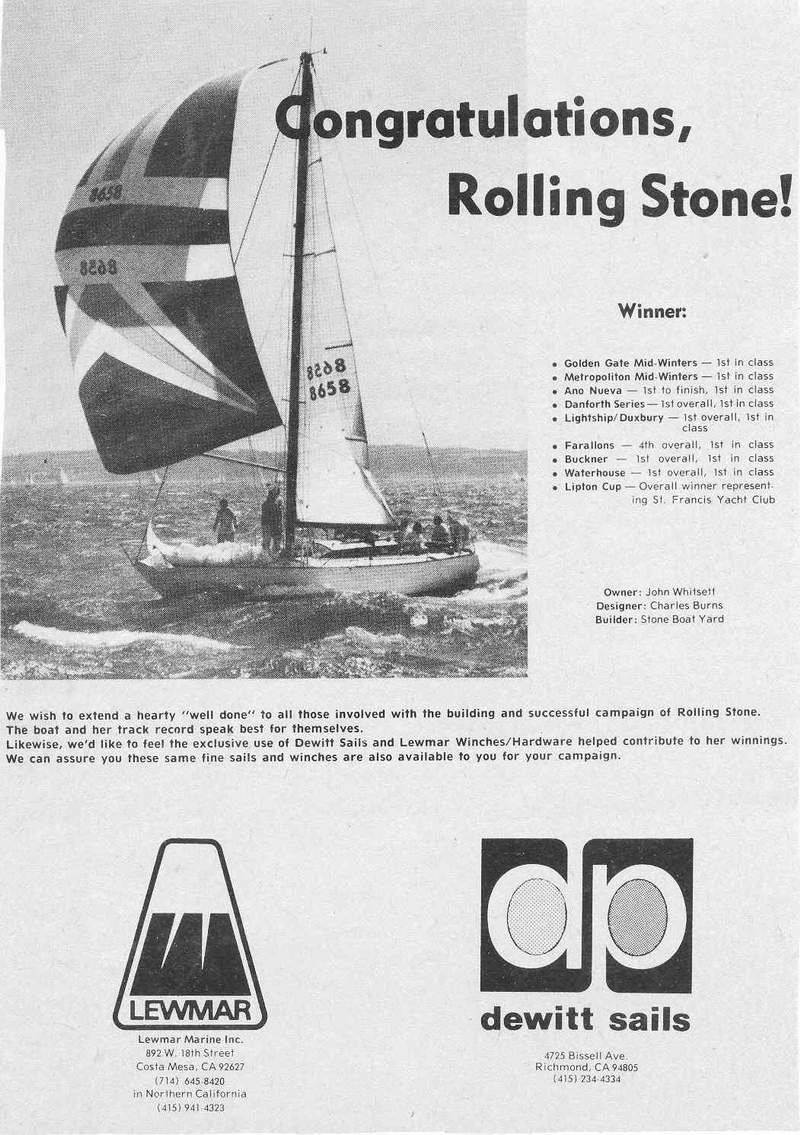 The gallery below gives a small impression about some stations of ship and crew in the past four decades – unfortunately totally disregarding the long passages of Robby and Dolores Robinson to Hawaii, Alaska. Mexico, Panama, Newfoundland and Scotland.

The picture below is definitely the most famous one. It was taken when Rolling Stone was owned and skippered by single-handed offshore sailor John "Robby" Robinson, who worked for Scanmar International, the manufacturer of the MONITOR wind vane.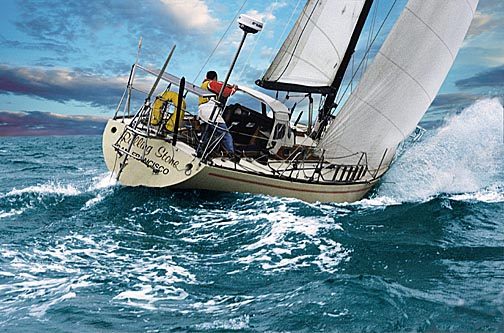 steered by the wind

Together with Hans Bernwall, the owner of Scanmar, they decided to make a photo shooting with Rolling Stone and the MONITOR in action. But let's give Hans the chance to "talk" about the genesis of this photo…
Therefore you'll find this photograph not only on the frontpage of the former Scanmar webpage, but also on their flyers and brochures. As the MONITOR is probably the best-known wind vane worldwide, it is no wonder, that this pic also appears in sailing magazines like the "Practical Boat Owner", which is Britains biggest-selling boating magazine (see an excerpt from an article below).

Between 2004 – 2020 Rolling Stone resided in Braunschweig, Germany, during the winter and cruised mostly the Baltic Sea in the summer. Since 2020 her new home port is SAILING CITY KIEL – a much more adequate place for an offshore yacht. More information about her you will find on the follwoing pages – and now enjoy and have fun!
The Owners
Frank and Marc Stadtaus had grown up with sail boats and are literally sailing their whole lifes. The two brothers were born and raised in Schleswig-Holstein, the northernmost state of Germany at the Baltic Sea. With their father being a passionate sailor and a house directly located at the water, it was no wonder, that they came in touch with sailing already in early childhood. Extensive sailing cruises with the whole family were the typical activity during summer holidays onboard the NAJADE1000 Murks II. Growing up at the coast of the beautiful Schlei-Fjord they also made intense use of their own dinghies of course. Although life had thrown them a little away from the water their passion for sailing never cooled down. In 2003 they made first contact wirh Rolling Stone and in 2004 they became the full owners of this fast, cold-moulded mahogani beauty.